Kalank Review {3.5/5} & Review Rating
EXPECTATIONS
There are huge expectations from the music of Kalank. After it, it sees Karan Johar and Sajid Nadiadwala join hands who bring on board composer Pritam along with lyricist Amitabh Bhattacharya. Moreover, with a stellar cast at its disposal and Varun Dhawan along with Alia Bhatt leading the show, you do expect fireworks.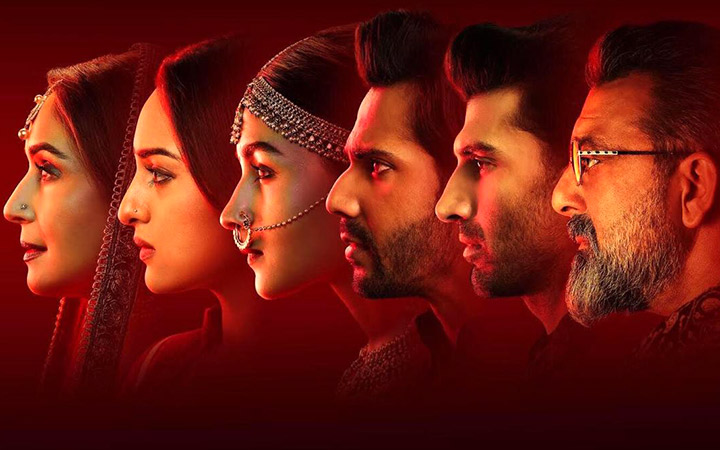 MUSIC
First to arrive is 'Ghar More Pardesiya' which is set during the Dusshehra sequence in the film. The song helps take the narrative forward for the film as Alia Bhatt meets Madhuri Dixit and then Varun Dhawan for the first time. The well written number has a good metaphorical reference too and Pritam brings a new dimension of his to the fore by putting together this semi-classical track that is very well rendered by Shreya Ghoshal. Later in the soundtrack, a 'radio edit' version appears which has Vaishali Mhade joining Shreya. This one adds to the recall value.
Next to arrive is 'First Class' and this is also the best song of the soundtrack, what with a peppy tune, catchy lyrics and some 'masti se bharpoor' singing by Arijit Singh and Neeti Mohan. In fact one wonders why this wasn't the first song to be promoted and placed right at the top of the soundtrack. With a start that reminds one of Pritam's own 'Afghan Jalebi' [Phantom] and the flow that is on the same lines as 'Saree Ke Fall Sa' [R… Rajkumar], 'First Class' is a chartbuster with cool rhythm accompanied by the dance moves that have become quite popular.
Arijit Singh gets into an altogether different 'avtar' with the title song 'Kalank'. This one only adds further class to this album that keeps the fire igniting with every passing number. A heartfelt number with sadness all over it, 'Kalank' has brilliant lyrics by Amitabh Bhattacharya that stay with you long after it has been heard first. Moreover, Arijit's rendition is truly the kind that is for a heart which is in pain and that's something which turns out to be the hallmark of the song. There is a duet version too with Shilpa Rao but it's the solo version that stays.
Shreya Ghoshal is back as the voice of Madhuri Dixit and she sings 'Tabaah Ho Gaye' in a manner that only she can. In fact Pritam too composes this one in a style that is reminiscent of the kind of music that Sanjay Leela Bhansali has in his own films. Musically, this one is on the same lines as 'Maar Daala' [Devdas] though this one does manage to bring in its own individuality as well, hence lending a good impression. There is certain sadness and pain in Shreya's voice which compliments the situation that Madhuri Dixit finds herself in the film, and that works.
'Aira Gaira' comes next a couple of times and this is the much talked about song-n-dance appearance of Kriti Sanon. Sung by Antara Mitra, this one actually reminds one of the kind of songs that Rekha Bhardwaj has sung in quite a few films. A high on energy number, this one actually reaches its crescendo when Javed Ali and Tushar Joshi pair up to provide vocals for Varun Dhawan and Aditya Roy Kapur in the film. In a style that has its base in the 40s and the 50s, this one needed more time for promotion in order to reach out to the audiences much quicker.
The album concludes with Jonita Gandhi going solo for 'Rajvaadi Odhni'. This one too has its base in Sanjay Leela Bhansali style of music and again it is surprising that the song wasn't promoted much in advance. A song which actually kick-starts the film and introduces Alia Bhatt to the audience, this one is picturised as well as placed well in the film. A catchy number that has the feet tapping.
OVERALL
Pritam comes up with a very good soundtrack for Kalank and is helped a great deal by lyricist Amitabh Bhattacharya. Moreover, there is a consistency of sound right through half a dozen odd songs that feature in the soundtrack. Even though the film is set in the 40s and the music compliments that era as well, even today's audience can well be entertained.
OUR PICK(S)
'First Class', 'Kalank', 'Tabaah Ho Gaye', 'Rajvaadi Odhni'