Our story is set in a mall where a very unsuccessful writer is trying to get his next big story. He writes everyday day in the mall's food court. He along with many of the others members of the community go to the mall every day. "Yeh Hai Lollipop" is a look in a new culture that is growing within in India "the mall goers."
Our lead character trying to a write his story and bases his characters on the crazy real people he sees at the mall every day. He shares about their mishaps, and the drama that fills their lives. As the movie goes on. We find that all kind of crazy situations begin to unfold.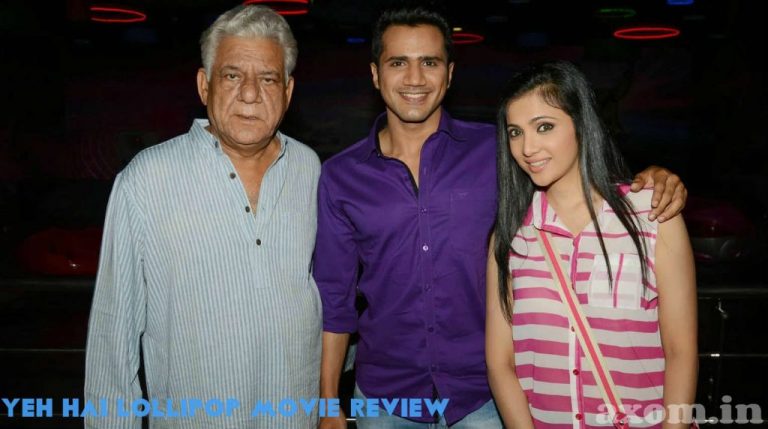 Our movie, "Yeh Hai Lollipop" is written and directed by the multi-talented Manoj Sharma. Manoj, brings this unique, comical, and romantic storyline to life on film.
The music is arranged and composed by Praveen Bharadwaj and Rahshid Khan who are both gifted musicians in their own right. "Yeh Hai Lollipop's" music is produced again by the award winning Zee Music Company. Who is involved in many of today Bollywood movies that feature wonderful, music.
The main romantic song of the film is called; "Dil Sulgata Ja Raha Hai". This song features clips from the acting of its young romantic leads Chirag Thakkar and Ohanna Shivanand. The lyrics and music are created and penned by its lyricist Praveen Bharadwaj. The song is performed and sung by Aaman Trikha. Please watch and you can enjoy by viewing. It can found at the following link here:
This movie: "Yeh Hai Lollipop" it has everything in it you could want. It contains love, comedy, action and even adventure but mostly a lot of comedy throughout. It has a lot of very interesting crazy characters. Whose lives all come together at a rather common place the mall. Each of their stories are very funny as well. The comedy in it seems to be over the top and not that interesting. But I'm sure that it is geared for a specific audience that likes dead pan and slap-stick kind of comedy. The romance you will enjoy features both young and older couples so that will appeal to a wider audience.
Just when you think all is well in the mall goer world everything begins to unravel. Even the cops, and the government become involved in the story. It has action, fun, and romance.
Genre: Bollywood, Comedy, Drama, Action, Thriller
Stars: Chirag Thakkar, Ohanna Shivanand, Om Puri, Himani Shivpuri, Manoj Joshi, Rajpal Yadav, Tiku Talsaina, Sanjay Mishra, Vrijesh Hirjee, Hemant Pandey, and Mukesh Bhatt
Producer: Harshal Bhadane
Director: Manoj Sharma
Screenplay by: Manoj Sharma
Production Company: Suddatta Films
Release Date: November 11th, 2016
For more information on this film "Yeh Hai Lollipop" please visit the following sites:
View the movies Official Trailer Here: https://www.youtube.com/watch?v=m6cvkB9MA_Q
Instagram: https://www.instagram.com/YehHaiLollipop/
Facebook: https://www.facebook.com/YehHaiLollipop/
Twitter: https://twitter.com/yehhailollipop
Twitter: https://twitter.com/Zeemusiccompany
Facebook: https://www.facebook.com/Zeemusiccompany
Instagram: https://www.instagram.com/Zeemusiccompany
Please Subscribe To Zee Music Company's Youtube Channel: https://www.youtube.com/Zeemusiccompany