Housefull 4 Review {3.0/5} & Review Rating
EXPECTATIONS
'Bala' did the trick! Time and again it has been said that even if there is just one blockbuster song in a film, it can elevate its fortunes in a big way. This is what happened with Housefull 4 as well which had 'Bala' turning out to be a rage en route the film's release. The other songs that were put together by Sohail Sen and Farhad Samji only turned out to be an added bonus.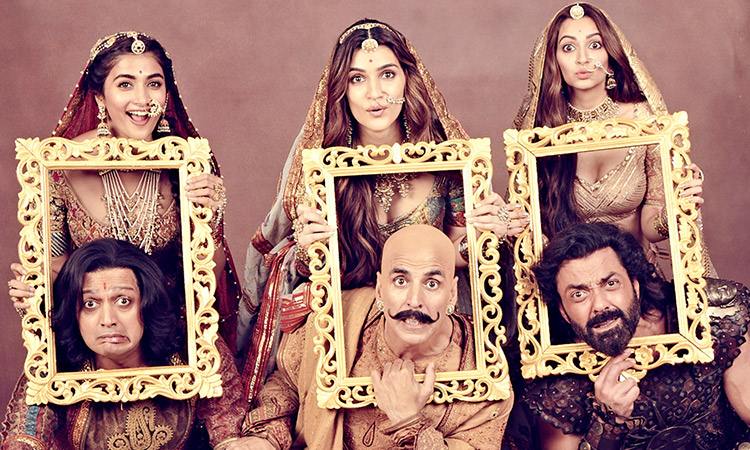 MUSIC
There is a signature Housefull feel to the manner in which 'Ek Chumma' kick-starts the proceedings for Housefull 4. When it comes to the franchise, the music is expected to be peppy, lively and catering to the masses. This is what is the case with this Sameer Anjaan written number as well which has composer Sohail Sen also come behind the mike along with Altamash Faridi and Jyotica Tangri. Together, the team ensures that there is a catchy number in the offering which is reminiscent to the kind of music that was popular back in the good part of the 80s and 90s.
The song which brings the house down though is 'Shaitan Ka Saala' which has its hook based on Tony Montana's 'Bala'. However, Sohail Sen along with the film's director and lyricist Farhad Samji spins it in a big way to come up with an even more entertaining piece that turns out to be far better than the original. One of the biggest chartbusters of 2019, it was also notable for its unique dance step, something that led to hundreds of cover versions that are popular till date. A bonafide blockbuster song all the way.
Another recreated song that arrives next is 'The Bhoot Song' which is based on Laxmikant-Pyarelal and Anand Bakshi's 'Bhoot Raja Bahar Aaja' from yesteryear film Chacha Bhatija. Farhad Samji and Sandeep Shirodkar come together to recreate their own version with Mika Singh taking over the center-stage and being his energetic best. In fact Farhad Samji plays a triple role here of being a composer, singer as well as lyricist (along with Vayu) with help also coming from Devi Sri Prasad who lends signature music to the track. A fun passable number.
The song which turns out to be a good celebration track though is 'Chammo' and this could well have been the first to be promoted. A lavishly picturised song that reminds one of the kind of songs that filmmakers like Manmohan Desai and Raj Kumar Kohli used to have in their films back in the 70s and the 80s, 'Chammo' has Sohail Sen and Sameer Anjaan do well all over again. With a strong base in Hindustani classical music as well, this one has Sukhwinder Singh, Shreya Ghoshal and Shadab Faridi come together and give this one as a grand appeal.
Last to arrive is Danish Sabri sung 'Badla' and this one turns out to be truly forgettable. Perhaps the core idea behind this Farhad Samji composed and written number was to ham it up, as is apparent in the lyrics as well as the music of this parody number. However, by and large this one actually turns out to be the weakest spot of the soundtrack as well as the film's narrative. This one can be conveniently skipped.
OVERALL
The music of Housefull 4 is just the kind that one expects from Housefull franchise. By and large it's the kind that goes with the pace of the narrative and stays along as the accompanying partner.
OUR PICK(S)
'Bala', 'Chammo', 'Ek Chumma'