De De Pyaar De Review {3.5/5} & Review Rating
EXPECTATIONS
There are good expectations from the music of De De Pyaar De. After all, it's the Sonu Ke Titu Ki Sweety team of Bhushan Kumar and Luv Ranjan coming together, and that by itself sets the platform for an entertaining score. Moreover with Ajay Devgn and Rakul Preet Singh coming together, it turns out to be a unique combination that further adds on to enhanced interest.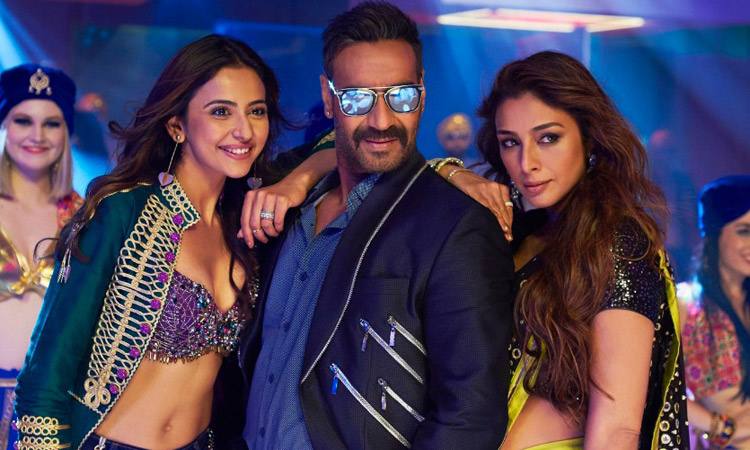 MUSIC
Multiple composers, lyricists and singers come together to create half a dozen songs for De De Pyaar De and the first to arrive is 'Vaddi Sharaban'. A song about getting intoxicated and celebrating hard, this song written by Kumaar is put to foot tapping tune by Vipin Patwa. Moreover, with Sunidhi Chauhan leading the show as a singer, it adds further credibility. She is at her vivacious best in this song which has a catchy hook to it and Navraj Hans gives her good company too behind the mike. Later, it also arrives in a 'talli mix' which brings in recall value.
A romantic number comes next in the form of 'Tu Mila To Haina' and this one is the kind that could well have been seen and heard in a Ranbir Kapoor or a Saif Ali Khan starrer. Amaal Mallik comes up with a soulful tune here which has Arijit Singh delivering his best. A soothing number that has some beautiful lyrics by Kunaal Vermaa, 'Tu Mila To Haina' is the kind of song that should have a good shelf life in time to come.
Next to arrive is a dance number 'Hauli Hauli' and if one was missing Neha Kakkar all this while then well, the wait is over as she gets into her mischievous best with this one. This is the best song to arrive in the album so far as the entire team of composer/lyricist Tanishk Bagchi along with Neha and co-singer Garry Sandhu (who also chips in with the lyrics) does really well to make this one a cracker affair. Mellow D brings on the rap portions in this song which plays in the end credits and ensures that you take this song home and play it all over again.
The soundtrack continues to oscillate between a party number and a love song, and it is time for latter to arrive this time around in the form of 'Chale Aana'. A happy-sad number which has the team of Amaal Mallik and Kunaal Vermaa pairing up again, this is yet another winner number which is sung beautifully by Armaan Malik. With a soothing tone to it, the song comes at just the right time in the film's narrative and the accompanying visuals further help in making sure that it manages to make a good impact. Moreover, the lyrics stay with you as well.
A Punjabi-Hindi number comes up next in the form of Kumaar written 'Mukhda Vekh Ke' which is the recreated version of the song that was originally put together by composer Atul Sharma and lyricist Shamsher Sandhu. A celebration number by Manj Musik that has a fun element to it, it may not the kind that would stay on for long amongst the audience but does manage to leave a good impression while it plays on. Mika Singh and Dhvani Bhanushali pair up well to keep good energy flowing right through the song's duration.
Last to arrive is Rochak Kohli composed 'Dil Royi Jaye' and this one turns out to be one of those sad numbers that actually end up making you feel so sad that you don't quite aim for repeated hearing. In fact the core hook of this Kumaar written song turns out to be way too sad and the song too arrives at that juncture of the film where it only ends up bringing down the film's pace. Arijit Singh is the singer here but somehow you don't quite take this song back home.
OVERALL
The music of De De Pyaar De by and large ends up working quite well with most of the soundtrack actually keeping you pretty much engaged and entertaining. Be it a couple of party numbers or the love songs, they fit in well into the film's narrative as well, hence lending an overall good experience.
OUR PICK(S)
'Hauli Hauli', 'Chale Aana', 'Vaddi Sharaban', 'Tu Mila To Haina'